Motion Picture Production Rentals

Railroad Hand Car
I have available for motion picture production rental an 1890 era working replica Sheffield Handcar. My handcar is constructed of solid white oak, the traditional wood used for railroad equipment of the late 1800's. The handcar has authentic 20 inch pressed steel wheels and a foot brake with wood brake shoes for safety. Most replica handcars have smaller 16 inch wheels, that are not authentic to the period. To ensure reliability, most mechanical parts have been machined rather than cast.

The handcar is human powered, meaning that pumping up and down on the handle moves the car forward or backward. It has a cruising speed of 10 mph, and can reach speeds of 15 mph. The handcar can be propelled to speeds of 8 mph with minimal effort.

If you desire to learn more about handcars visit my page covering the history of the handcar device.

The handcar is based in Southern California in the City of Santa Clarita, about 30 minutes north of Hollywood. I have put together a page detailing hand car shooting locations.

My Handcar is offered in authentic yellow safety paint of the era. Inquire for rental rate. If repainting is necessary by the studio then an additional charge applies.

Velocipede
I also own an antique railroad bicycle type car known as a velocipede. The machine was a popular inspection device for one or two man crews between 1880 and World War II. The machine is propelled by the operator pulling the handle towards the chest. My velocipede is an original model circa 1900 and is available for rent.

Push Car
Every railroad construction work site needs to have a push car for carrying tools, ties, and other equipment. I built my push car from actual North Western Railroad plans dated 1910. It runs very smooth and can be pushed or towed behind a railroad speeder.

Rail Tools
I also have a collection of era railroad maintenance-of-way tools to fully outfit the hand car that is available for rental. My collection of tools include shovels, picks, spike puller bar, rail lifting tongs, track wrenches, spike hammer, track gauge, water can, oil can, oil burning inspection lantern, lunch box, red glass oil lantern, and an assortment of chisels. Basically I have most of the tools needed to build a railroad.

Contact me:
Email:
Telephone: (661) 600-3822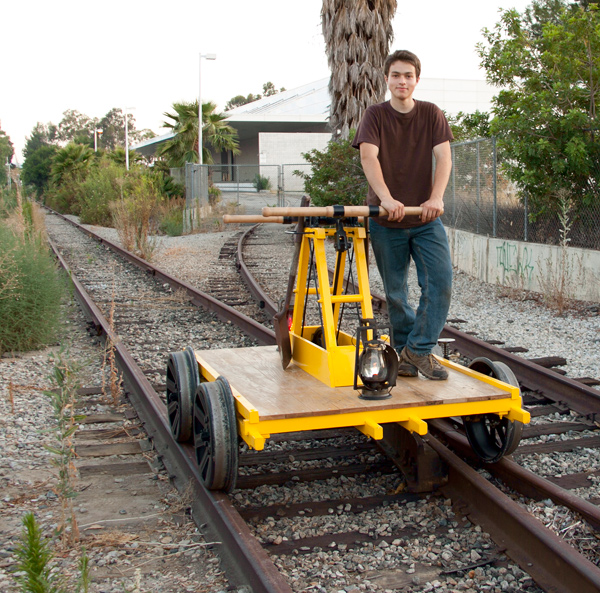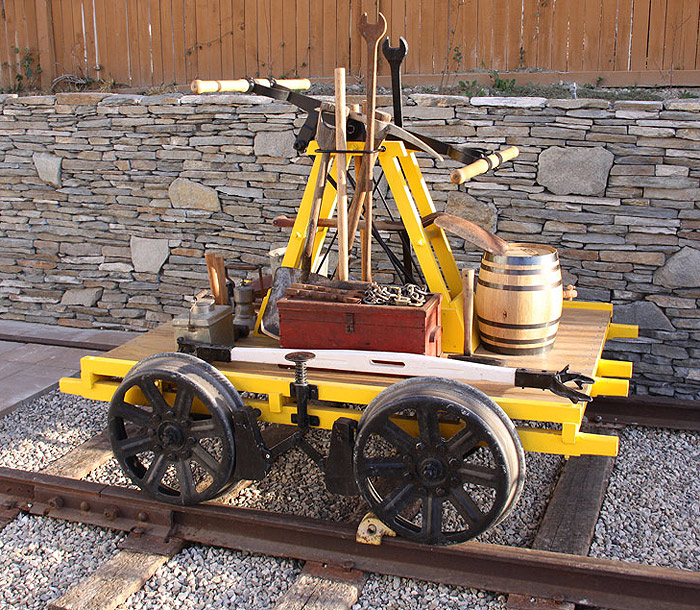 Authentic railroad velocipede also available for rent.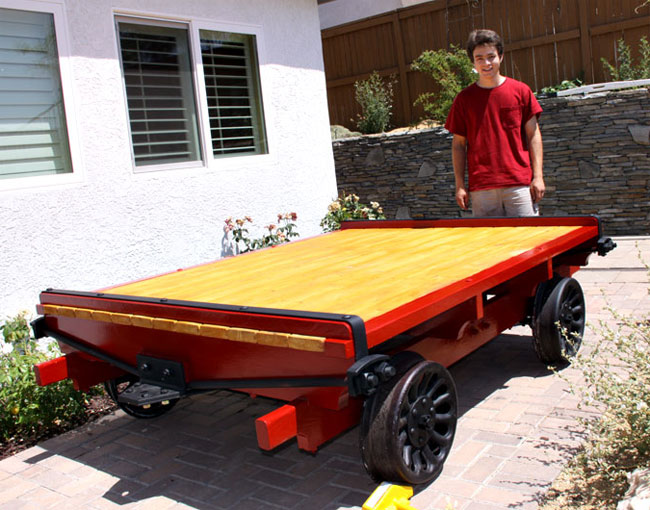 Replica railroad push car circa 1910.