Sheffield Car Company Illustrations Circa 1895
INCLUDE ("/www/virthost/www.railroadhandcar.com/html/includes/history_header.php"); ?>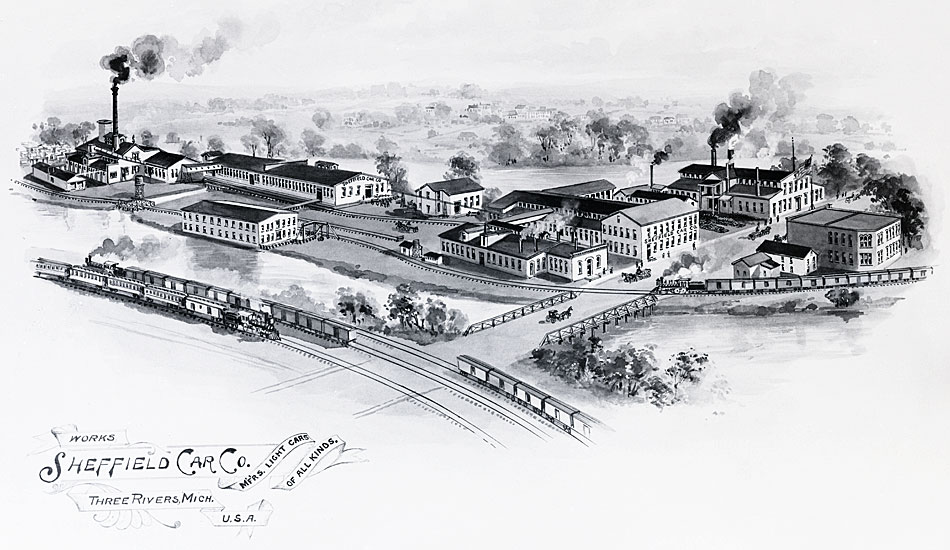 The Sheffield Car Company was situated in Three Rivers Michigan. Unlike some factories of the era, Sheffield's employees did not live on site.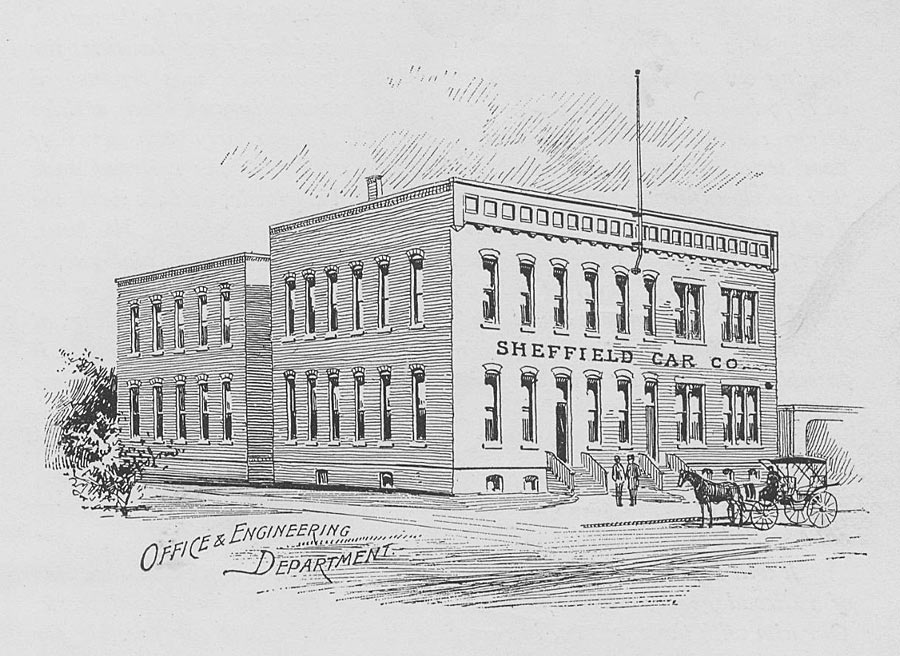 The engineering offices were situated near the entrance and is where general office work was accomplished and products designed.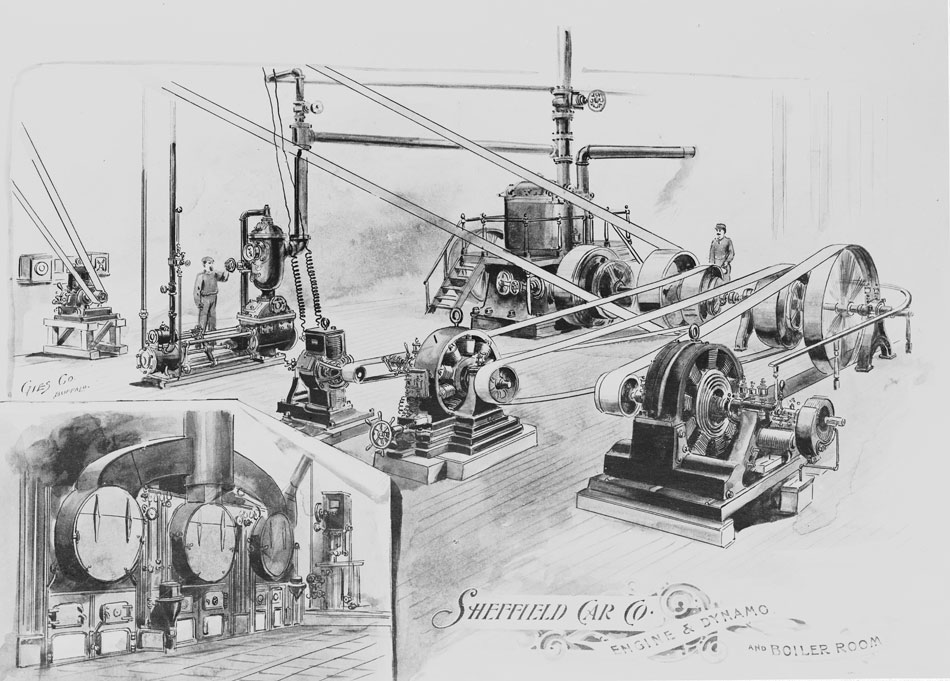 The Sheffield factory complex had its own electrical plant and boiler room. The belt driven system was powered by electric motors that were powered by steam from boilers



The forging shop is where parts that required a high degree of strength were pounded into shape. This would include brake parts, and the crankshaft.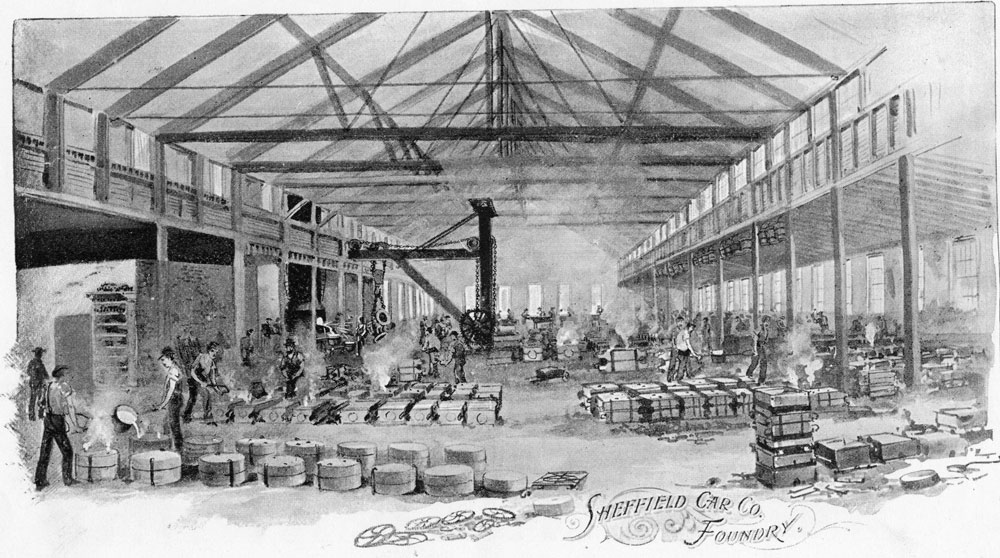 The foundary was a hot place to work. This is where parts were cast from iron. Sheffield did not use as many cast parts as the competition, which was namely the Buda Company.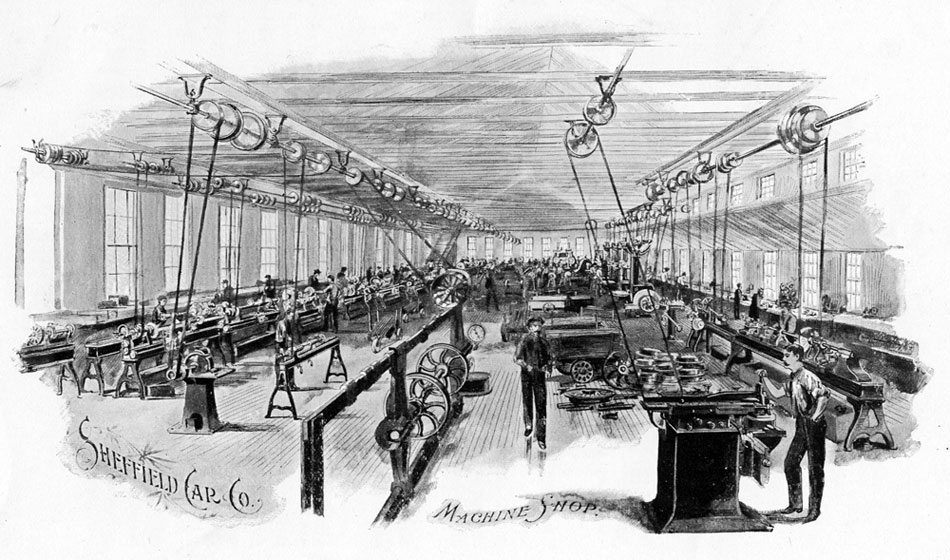 While most of the metal parts used for hand cars were forged or cast, some had to be machined. These parts included the tension rods, axles, bearings, fasteners, and gears. Other parts like the pump arm required tapping to create a thread.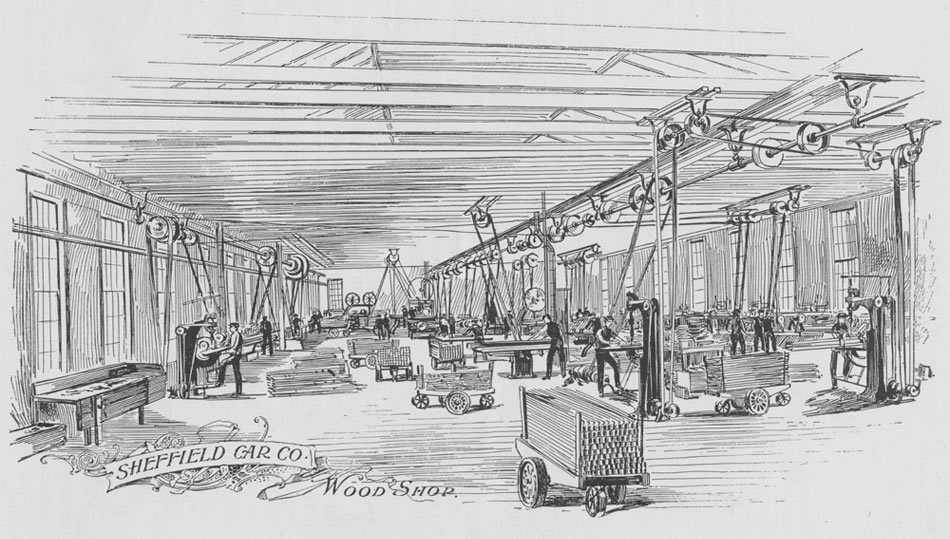 Probably the largest shop at the factory was the extensive wood shop. Every hand and velocipede car was built out of quality ash. Handcars and velocipedes required a high degree of craftsmanship.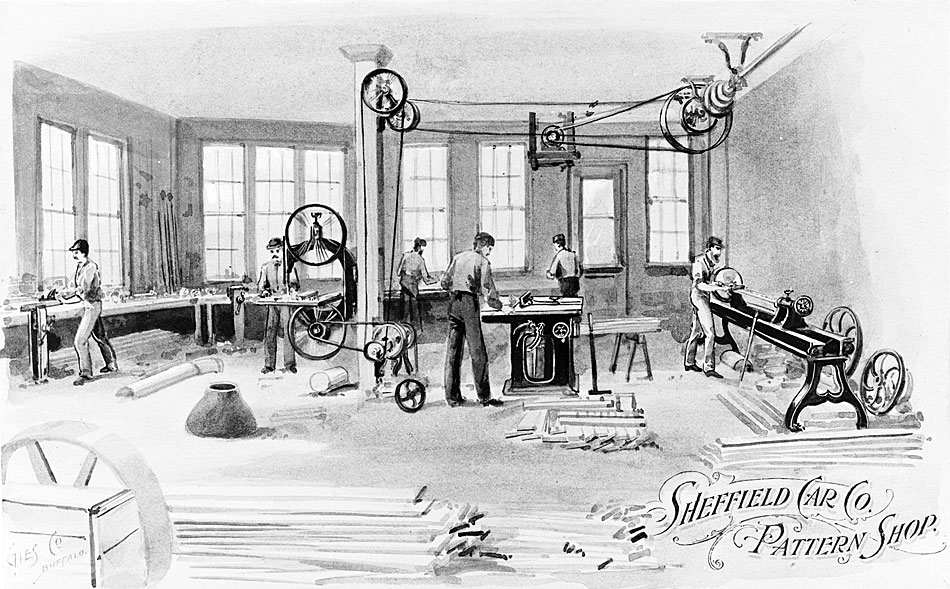 The pattern shop is where wood centered wheels pieces were made. It is also the room where wooden handles were turned, and brake pads cut. It appears the table saw connects to the power plant under the floor as there is no overhead belt and there is lever next to it, presumably to disengage the belt.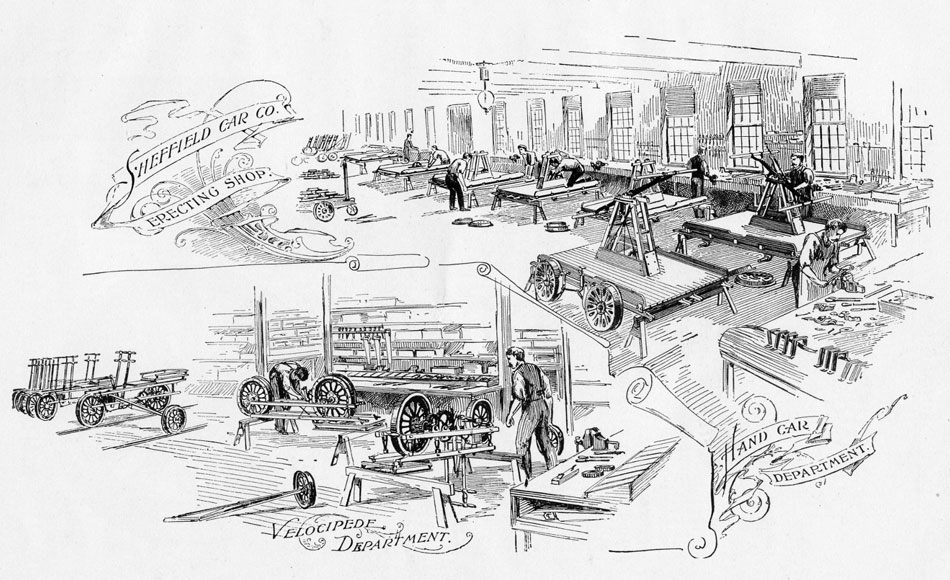 These illustrations present the assembly shops were velocipedes and handcars were assembled. Notice the light bulb in the center of the hand car room powered by the dynamo located at the central plant. Looking a the photos it appeared each hand car and velocipede was built by one person, and did not utilize an assembly line system that came about in the 20th century.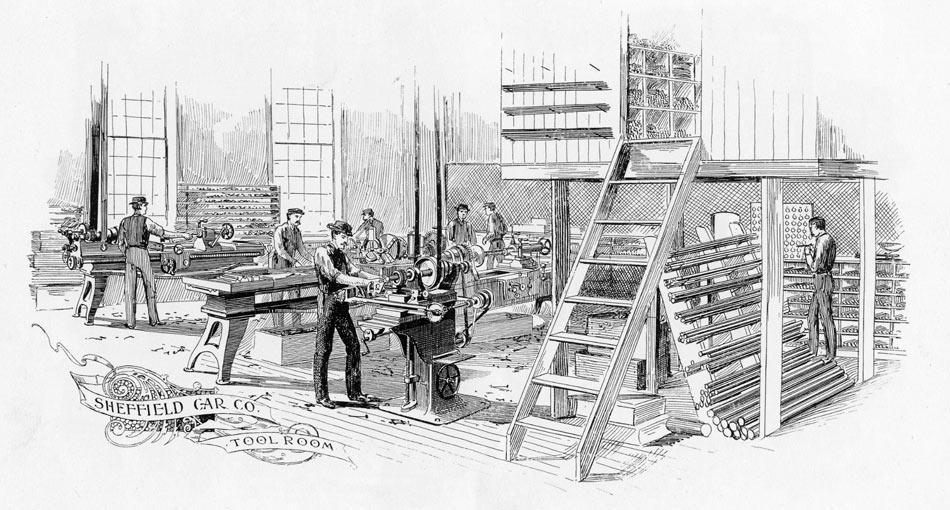 Sheffield maintained a tool shop for making the specialized tools they used to build their line of handcars, velocipedes, and standpipes. When something was needed their craftsman went to work designing and fabricating the tools needed. They did not make every tool as taps and dies were purchased.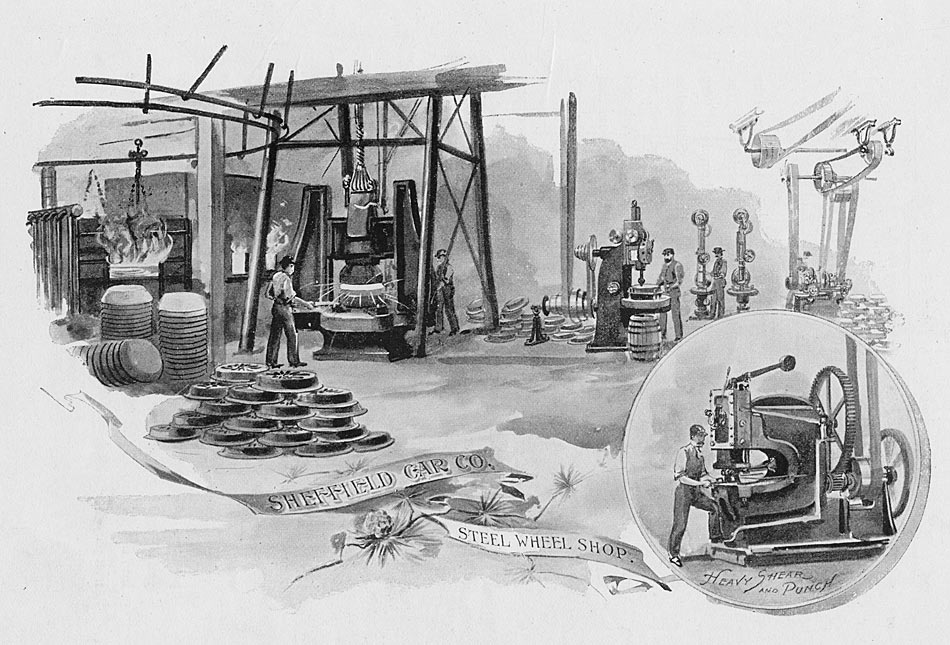 This illustrations presents a good picture of how Sheffield manufactured its pressed steel wheels. It appears the blanks were hot pressed into its shape before the pattern was stamped out. The teardrop wheel pattern added strength and prevented it from bending while in service.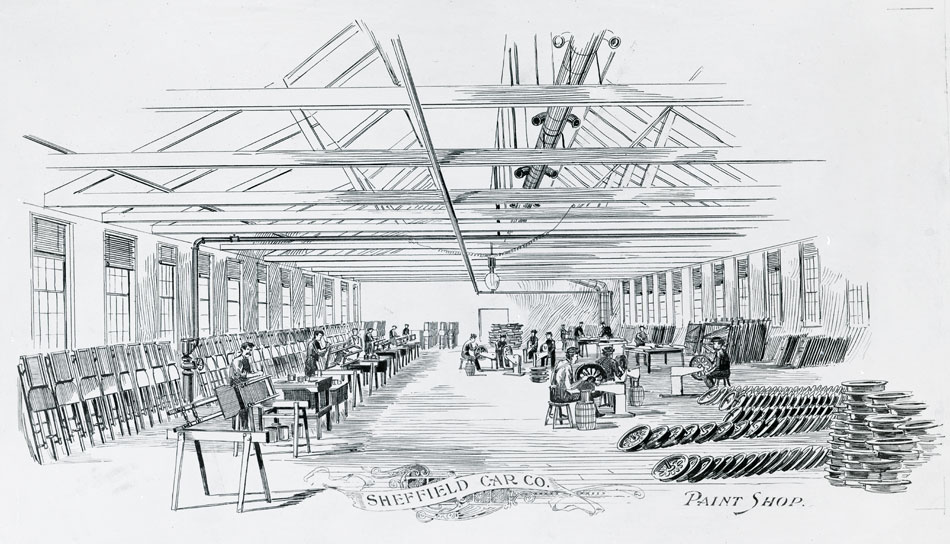 It is a big job to paint hand cars and velocipedes. During this period of time the cars would have been painted with paint containing iron oxide which was used to tint paint red.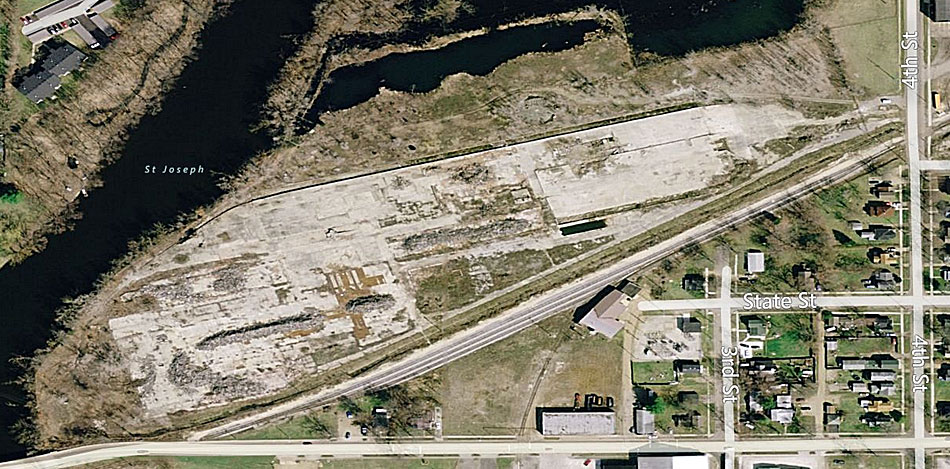 This is what the factory site looks like today.


INCLUDE ("/www/virthost/www.railroadhandcar.com/html/includes/history_header.php"); ?>